---
History
River Keepers grew from a desire to rediscover the Red River's heritage, and to teach people to again appreciate the Red as a living River. In earlier decades of Fargo-Moorhead history, people used and appreciated the Red River for a variety of activities. In later years, people lost that appreciation for the river which is the dominant geographical feature in the community, and began to consider it a liability to be avoided.
In 1989, believing that it was time to promote a "new attitude about the River," and explore ways to develop the River as a recreational site, a team of architects called the Red River Regional/Urban Design Assistance Team (R/UDAT), produced an intensive review and analysis of the resources along the Red River that flows through the cities of Fargo, North Dakota and Moorhead, Minnesota.
R/UDAT proposed the creation of an organization to act in the position of River Keeper. They also proposed plans to educate people about maintaining the ecological health of the river, ideas for expanding the river's recreational use, and plans to build a "rediscovered" riverfront area in the downtown Fargo-Moorhead area. These visions could be accomplished through the actions of a River Keepers organization, the Fargo and Moorhead governmental offices, and by educating the public to be stewards of the river.
---
Mission
"To advocate sustainable use of the Red River of the North, primarily within the Fargo-Moorhead area."
Slogan
"Promoting a renewed vision for the Red River of the North."
Vision Statement
"All people value our Red River as a vital part of our community."
Core Values
"We believe integrity and respect are inherent in all our core values.
Education: We are dedicated to educating our community by increasing local watershed knowledge through active engagement.
Stewardship:  We are dedicated to taking care of our River environment and community relationships.
Leadership: We are dedicated to developing and influencing current and future leaders."
Staff Members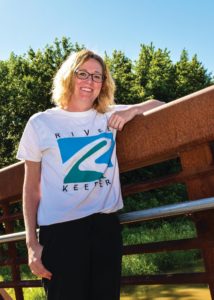 Christine Holland
Executive Director
Email Christine

Kimberly Morris
Project Coordinator
Email Kim
River Keepers Activities
Advocates awareness, appreciation and stewardship of the Red River.
Advocates riverfront development projects.
Encourages and promotes River usage.
Helps develop economic opportunities in the River corridor.
Encourages development of recreation amenities in the River corridor.
Educates residents on the River environment.
Addresses safety concerns regarding the River corridor.
Assists in providing cultural opportunities at the River's edge.
Manages riverfront restoration projects
Sustaining Sponsors
Board Members
Annual Reports