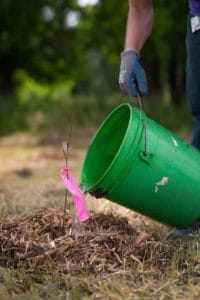 On June 8th about 90 volunteers went to Original Homestead Park in Moorhead to Reforest the Red. These volunteers dedicated 3 hours of their time and their sweat to plant 800 trees in the park. It was humbling to see the diversity of people who came to help, and observe the strong sense of dedication and community in every single one of them. River Keepers staff was practically begging volunteers to stop and a take a break for water, a granola bar or a sub. Regardless, the volunteers completed their task in just a few short hours and you could see a face of gratification on each volunteer as they left the park.
Restoring this area with trees will provide many benefits to our river community. The addition of these trees will help slow rainwater runoff, stabilize the bank, provide habitats and keep the river cooler for wildlife, and so much more. The trees that were planted that Friday will greatly impact our community for years to come.
We would like to thank all of the businesses who generously encouraged their employees to participate in this event including Rape and Abuse Crisis Center, Wex Health, Bell Bank, D-S Beverages, Annheuser Busch, Cargill, FedEx, Microsoft, and Old Navy. We would also like to thank our sponsors who made the day possible, the City of Moorhead and the Clay County Soil and Water Conservation District.
If you missed out on the fun but would like to participate in the future, there will be another Reforest the Red event on September 12th from 12 pm to 7:30 pm on the Fargo side of the river. Check out our Facebook page for more information, we hope to see everyone there!
https://www.facebook.com/events/493481504379267/